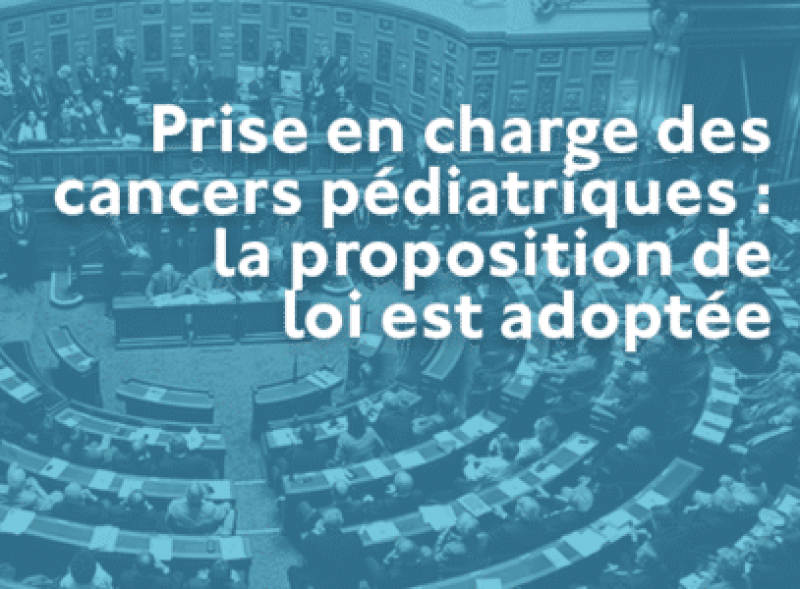 After a long debate, the bill proposed by the deputy Nathalie Elimas aiming to strengthen the care of pediatric cancers was voted unanimously on November 29, 2018 at the National Assembly. In addition to a relaxation of the possibility for sick children to participate in clinical trials, or the development of a ten-year strategy, it brings an improvement in the AJPP (daily parental presence allowance) request made to the National Assembly by the 'Eva pour la vie association, supported by Growing Up Without Cancer



Among the measures adopted:
1. The Assembly voted in favor of the development of a ten-year strategy for the fight against pediatric cancer, with public funds determined each year. It should be noted that this article does not provide for additional funds, this intention is however a recognition of the need to go further in the fight against pediatric cancers.
2. It has also decided on the principle of renewing the Daily Parental Presence Allowance (AJPP) to allow parents to support a sick child when his condition requires "sustained presence and important care". Until then, the AJPP was limited to 310 days usable for 3 years and renewable only in the event of relapse, recurrence or complication. This measure that we welcome is inspired by the work of the former member of the Gironde Martine Faure.
We remain mobilized for all aspects which to this day remain insufficiently addressed: funding for research on cancers and serious childhood illnesses, aid for families of sick or deceased children (no public death benefit is paid into this case) etc ...
Eva pour la vie, co-founder of the
Growing Up Without Cancer
federation, which brings together many health professionals, researchers, more than 90 patient and parent associations through a manifesto, actively intervenes with public opinion and public authorities. on the urgent need to act faster and better, both in terms of funding research and care and assistance for families of children suffering from cancer, serious illnesses and disabilities.