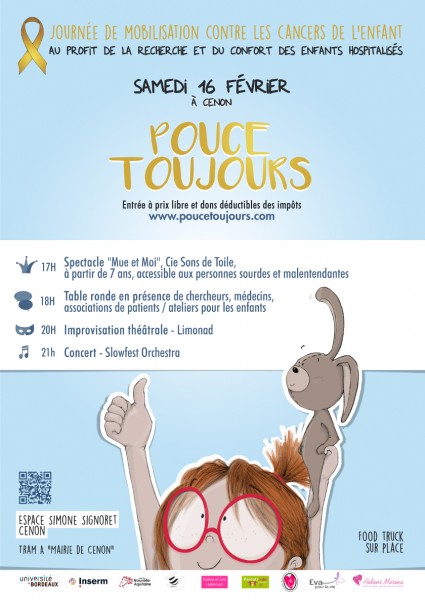 The day after the day of mobilization against childhood cancer. Associations, researchers, doctors, politicians gather around round tables, and also, shows for young and old.
All the benefits of this event will be used for the comfort of hospitalized children and to fund the research team MiRCaDe, U1035 led by Dr Christophe Grosset. In partnership with the associations Eva pour la vie, Parentraide, Cassandra ACCL)
Detailed program :
4.30 p.m. Public welcome
5 p.m. Mue et Moi, Sons de Toile Company
Young audience show (7 years old and over),
Accessible to the hearing and hearing impaired public
6 p.m. Round tables moderated by Kady Adoum Douass (Sphères association, journalist)
- Involvement of associations: financial, political and moral support.
with Benoit Simian (deputy for Gironde) & Stéphane Vedrenne (association Éva pour la vie)
- Collaborations patients - associations - doctors - researchers in fundamental, translational and clinical research.
with Dr Christophe Grosset, Dr Stéphane Ducassou, Caroline Desclaux (Parentraide association) and Laura Fontaine (Users' Committee of the National Cancer Institute)
6 p.m. Workshops, games for children
7:30 p.m. Limonad Improvisation League
Theatrical improvisation cabaret
Childhood Theme
9 p.m. Slowfest Orchestra Concert
To make a donation or reserve your place: www.poucetoujours.com