1st pediatric cancer conference at the National Assembly -
16 mai 2018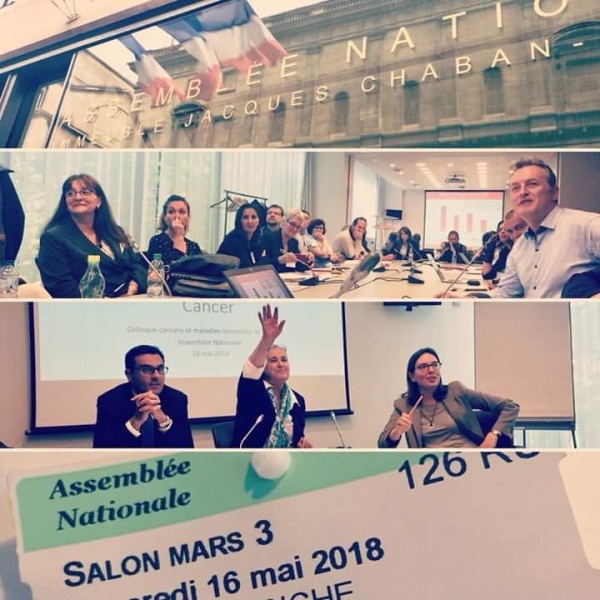 On Wednesday May 16, the deputy of Gironde Benoît Simian organized, with the Federation Grandir Sans Cancer, of which the Eva pour la vie association is co-founder, a conference on the fight against cancer and incurable pediatric diseases. A first for the National Assembly.
In a packed room, many deputies - including Benoit Simian, Amélie de Montchalin, vice-president of the cancer study group Michel Lauzzana, former deputy Martine Faure - came to hear researchers, associations and parents who, in a single way, want the State to commit to a law guaranteeing a fund dedicated to research on childhood cancer, like what is already practiced in the United States, in particular, via the "Gabriella Miller Kids 1st Research Act" (passed in April 2014). In addition, a quality benchmark was carried out, to demonstrate that we can do better in terms of financial assistance for families of sick and deceased children, as well as to help parents who have to go abroad to care for their child. .

All the observations of the participants were corroborated by the work of the former Member of Parliament and president of the pediatric cancer study group, whose intervention during this conference was appreciated by all. The exchanges were of a very high level, transparent and concrete.

We are optimistic that, in the coming months, things will progress. Eva pour la vie works actively within Grandir Sans Cancer - a federation of which she is a co-founder - resulting from a manifesto signed by nearly 80 associations and 150 health professionals. Its objectives are in line with our expectations for sick children and their families.
Return to the previous page