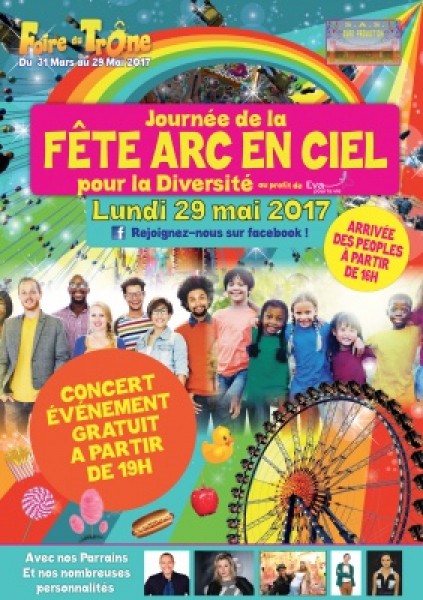 The 2017 Throne Fair continues again this year with the special Arc en Ciel day. Like its inauguration day, the closing day of the funfair will be united and festive. On Monday May 29, we support the association "Eva Pour La Vie" through free entertainment and concerts
This year again, theFoire du Trône plays the extension and organizes a special day on Monday, May 29, 2017 : the Day of the Rainbow Festival . A festive and charitable day on the theme of diversity, where fairgrounds, artists and partners support the association " Eva Pour La Vie ".
Many activities await you on the program. From 4 p.m., the celebrities will be there to come and meet you. Then it's time for the big free concert at 7 p.m., on the entrance podium of the Foire du Trône (Door 1).

Starting at 16h :
Ambulatory entertainment in the fair's alleys with magicians, music, street artists, clowns ...
Photo-autograph session with the people present (photocall and dedicated space for this purpose)
From 19h :
Free concert by many artists and personalities from all walks of life, from the most famous to emerging artists. A concert dedicated to all generations, for all audiences with anecdotes and surprise interventions on the program.
In short, a nice program to end in style this new season of theFoire du Trône 2017 .
4 p.m. to midnight
Free entertainment and concert
Free entry