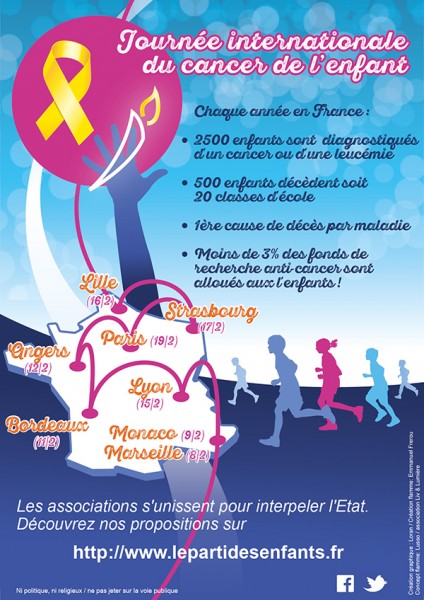 Saturday February 11, Place de la Comédie (Grand Théâtre) - The associations Eva pour la vie, Kaëna, Cassandra, Timéo our hero, On est là and Laurette Fugain unite and welcome an Olympic flame dedicated to touring France in honor of sick children, and to sensitize the State.
The associations unite around the Children's Party collective to challenge the State:
- 500 children die of cancer each year in France, a figure that has not fallen for the past fifteen years
- cancer is the leading cause of death from disease in children
- in France, less than 3% of anti-cancer funds are allocated to research on pediatric cancers.
Come support us and freeze in front of the objectives for a symbolic "mannequin challenge"! A "release of bubbles" is also planned ...
Several dates in France: Marseille, Monaco, Bordeaux, Angers, Lyon, Strasbourg, Lille and Paris. More info on
http://www.lepartidesenfants.fr/