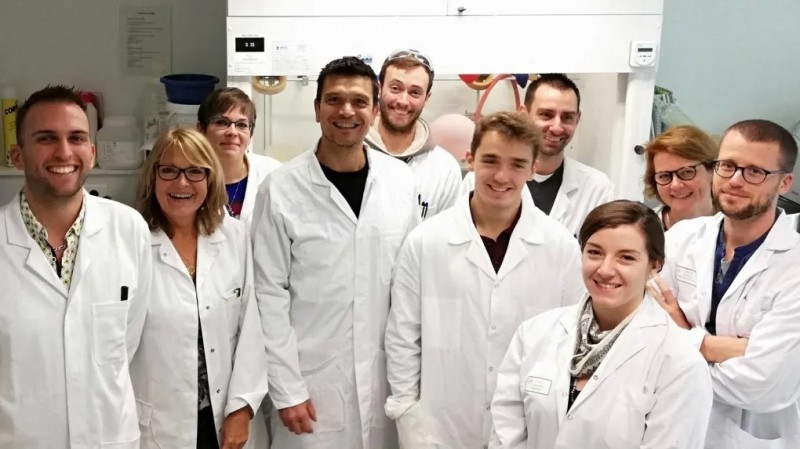 At the end of 2018, the Nouvelle Aquitaine region agreed to co-finance with Eva for life the research project "Biological and preclinical studies of new anticancer agents, including some targeting EZH2 / PRC2, in the treatment of highly proliferating hepatoblastoma", led by Prof. Papot and Dr Grosset. The Eva pour la Vie association covered up to 50% of the cost of the purchase of laboratory equipment (in the amount of € 9,000) necessary for the smooth running of this work.
Today, conventional chemotherapy cannot cure the majority of common cancers. Most of the drugs used clinically have little selectivity towards tumor cells and also attack healthy tissue. This non-selective destruction causes severe side effects and often leads to premature discontinuation of treatment.
Recent studies have highlighted some malignant specificities which make it possible to differentiate tumors from healthy tissues. The discovery of these potential targets has led to the development of several therapeutic targeting systems. The objective of these new strategies (vectorized chemotherapies) is to convey a drug to its site of action using a non-toxic vector, then to regenerate its anticancer activity exclusively at the level of the tumor. This approach has several advantages over conventional chemotherapy. Indeed, the selective localization of the cytotoxic molecule in the area to be treated limits the side effects observed during its systemic administration. In addition, the low toxicity of the vector makes it possible to increase the quantity of active agent administered in the organism and thus its concentration at the level of the tumor in order to lead to a more effective treatment.
In this context, the team of Professor Sébastien Papot based at the Poitiers Institute of Chemistry of Media and Materials, has developed new molecules capable of selectively destroying many human tumors (breast, colon, lung, pancreas, head and neck) implanted in mice without causing side effects in animals. Unprecedented results have been obtained in particular for the treatment of pancreatic tumors, a pathology for which there is currently very little therapeutic solution.
Thanks to a collaboration with the team of Doctor Christophe Grosset (INSERM U1035, Bordeaux) and the support of the Eva pour la Vie association, this new therapeutic concept is now being evaluated for the treatment of childhood tumors.
November 2019 update
:
Click here to read the summary & visuals